Crestview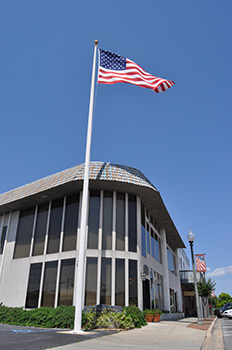 The law firm of Powell, Powell & Powell was first established in historic downtown Crestview, Florida, in 1951 by our founding partner, Gillis E. Powell, Sr. (1920-2011). As a young child in the 1920's, Gillis Powell Sr. often attended court in DeFuniak Springs with his grandfather, Walton County Judge A.R. Campbell and his great-uncle, attorney Knox Gillis. Our family has had lawyers and judges for many generations in Crestview and DeFuniak Springs.
Crestview is the county seat of Okaloosa County and is strategically located in the north end of the county near Interstate 10 (I-10). Powell, Powell & Powell's Crestview office is situated on Main Street in the heart of Crestview across the street from the Okaloosa County Courthouse, near the intersection of Highway 90 and Highway 85. Our location in downtown Crestview across from the courthouse is a prime location which allows us to serve the legal needs of clients in Crestview, as well as the surrounding areas, including Baker, Laurel Hill, and all of north Okaloosa County.
The Crestview office of Powell, Powell & Powell has always been located on Main Street. This office has grown from one lawyer in 1951 to five lawyers practicing across a diverse range of legal fields. Over the years, we have worked to develop strong and lasting relationships with the many businesses and residents throughout north Okaloosa County. We are very familiar with the local community of lawyers and judges and we are active members of the local community.
The attorneys in the Crestview office represent clients in all types of personal injury cases, including car and truck accidents, motorcycle accidents, pedestrian and bicycle accidents, medical malpractice cases, dog bites, and premises liability cases. We also offer a wide range of legal representation in other areas of the law, including criminal defense, construction litigation, and disability claims. Our Crestview location allows for easy access to courts located in Okaloosa, Walton, and Santa Rosa counties, allowing us to provide quality legal representation to residents across the entire Florida Panhandle.
Our law firm is a family business which was founded on the principle of providing high-quality, responsive and personalized legal services. We remain committed to this core principle and we work together as a team to ensure that regardless of where our clients are located, they receive the individualized legal representation for which our firm is known.