Ava Susan Powell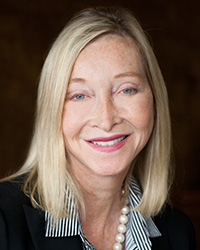 T: 850-664-5564
F: 850-664-6175
Ava Susan Powell is the daughter of Gillis E. Powell, Sr., the founding partner of the firm. She is a native of Crestview, Florida, and graduated from Crestview High School.  She earned a Bachelor of Science degree from Florida State University in Tallahassee and her law degree (Juris Doctor) from South Texas College of Law in Houston, Texas, in 1982.
Ms. Powell practiced law in Houston, Texas, prior to returning home to practice law with her family in 1991.  She is a member of the Florida Bar, the Okaloosa Bar Association, and the Escambia-Santa Rosa Bar Association.  She is the President of Okaloosa Title and Abstract Company, established in 1925.  She is married to Dan Stewart, a practicing attorney in Santa Rosa County, Florida.
Ms. Powell devotes her practice to Social Security Disability and Veteran's Administration (VA) Disability Claims.  She is accredited by the U.S. Department of Veterans Affairs to represent veterans in VA benefits claims.